Kuanta Construction Awarded U.S. Air Force ATCALS and NAVAIDS Project in Shindand, Afghanistan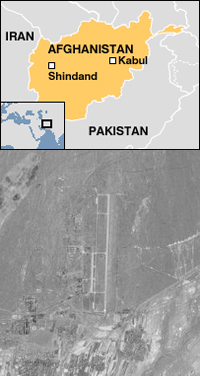 Hanscom AFB, MA, Feb. 6, 2012 – The U.S. Air Force Electronic Systems Center (ESC/HBAK) at Hanscom Air Base awarded Kuanta Construction the contract for the Air Traffic Control and Landing Systems (ATCALS) and Navigational Aids (NAVAIDS) Program at Shindand Air Base in Herat Province, Afghanistan. The period of performance begins in February, 2012 and ends in September, 2013.
Under the contract, Kuanta is responsible for the design and installation of the Category I ATCALS & NAVAIDS systems, as well as procurement, assembly, calibration, testing and flight check of all equipment and systems. Kuanta will also provide technical assistance, orientation, maintenance support, and warranty services as part of the project scope.
The ATCALS and NAVAIDS Program is a Foreign Military Sales case undertaken to support the Afghan Air Force (AAF) Rotary and Fixed Wing Flying Training Program at Shindand Air Base. The Air Traffic Control equipment will serve all AAF aircraft and a variety of coalition aircraft.
Kuanta Construction is a dynamic international construction company that delivers cost-efficient, high-quality turnkey design, construction and integration services to U.S. government agencies and reputable international contractors in conflict areas and other strategic locations. Established in 1996, Kuanta is headquartered in Ankara, Turkey with offices in Arlington, VA, Iraq, Qatar and Tanzania.
For further information, please contact:
Tel: +90 312 491 2232
In the U.S., please contact:
Tel: 001 571 762 1077
info@kuanta.com
www.kuanta.com