Kuanta Construction wins U.S. Air ForceATCTower Program in Shindand AB, Afghanistan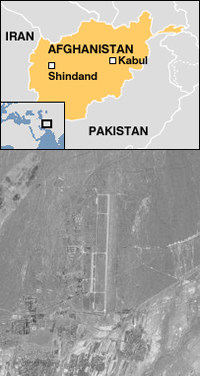 Hanscom AFB, MA, Feb. 4, 2013 – The U.S. Air Force Life Cycle Management Center at Hanscom Air Base (AFLCMC/HBAK) awarded Kuanta Construction a competitively procured contract for the Air Traffic Control Tower (ATCT) Program at Shindand Air Base in Herat Province, Afghanistan. The period of performance begins inFebruary 2013 and ends inSeptember 2014.

As part of this 3 million USD FMS Program, Kuanta will provide all necessary personnel, materials, equipment and services to design, produce, supply, deliver, install, integrate and commission of all necessary Equipment and Systems in order to deliver a turn-key operational Air Traffic Control Tower at Shindand Air Base (AB), Afghanistan.

Kuanta will execute all design and on-site installation/integration efforts with our own Technical Specialist Teams. Once completed, ATC Tower will have 5 positions with the following systems fully integrated and operational:

- Voice Communication Control System with Digital Voice Recorder
- VHF/UHF ATCT Ground-Air Radios & VHF Land Mobile Radios
- D-ATIS with VHF Transmitter Radio
- AFTN Terminal
- C-Band VSAT System
- Primary Crash Network Voice Switch
- GPS Time Display and Distribution System
- High Ambient Light Radar Displays
- Ancillary Tower Equipment (e.g. Rotating Beacon, light guns, UPS, etc.)

Upon completion, AAF personnel will be trained by Kuanta specialists during one-year on-site O&M (Operations & Maintenance) and CLS (Contractor Logistics Support) Period.

Kuanta Construction is a dynamic international construction company that delivers cost-efficient, high-quality turnkey design, construction and integration services to U.S. government agencies and reputable international contractors in conflict areas and other strategic locations. Established in 1996, Kuanta is headquartered in Ankara, Turkey with offices in Arlington, VA, Iraq, Qatar and Tanzania.
For further information, please contact:
Tel: +90 312 491 2232
In the U.S., please contact:
Tel: 001 571 762 1077
info@kuanta.com
www.kuanta.com