Kuanta Construction Wins MCC Airport Upgrade Project in Tanzania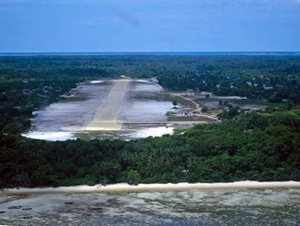 Dar es Salaam, Tanzania, Nov. 28, 2011 – The Millennium Challenge Account in Tanzania awarded Kuanta Construction the contract for the rehabilitation and upgrade of the Mafia Island Airport. Mobilization for this one-year contract will commence in February 2012.
Under the contract, Kuanta will upgrade the existing runway to International Civil Aviation Organization (ICAO) standards, which requires demolition and site clearing, airfield drainage, earthwork and airfield grading, asphalt paving, runway marking, and installation of perimeter security fencing.
As part of the project scope, Kuanta will arrange marine transportation to the island for all equipment and materials, including the asphalt plant, heavy machinery, bitumen aggregates, and petroleum products.
The Mafia Island Airport Upgrade Project is part of the transportation investment program undertaken by Tanzania through its five-year compact with the Millennium Challenge Corporation (MCC). This project promotes the compact's overarching objective of reducing poverty and stimulating economic growth by enhancing transport and commerce linkages to the island.
Kuanta Construction is a dynamic international construction company that delivers cost-efficient, high-quality turnkey design, construction and integration services to U.S. government agencies and reputable international contractors in conflict areas and other strategic locations. Established in 1996, Kuanta is headquartered in Ankara, Turkey with offices in Arlington, VA, Iraq, Qatar and Tanzania.
For further information, please contact:
Tel: +90 312 491 2232
In the U.S., please contact:
Tel: 001 571 762 1077
info@kuanta.com
www.kuanta.com