Aviation
A proven aviation solution provider for the U.S. Air Force, Kuanta has successfully completed numerous aviation projects. Our Navigational Aid and Airfield Lighting project for the USAF at Kirkuk and Taji Air Bases in Iraq is now in the warranty management phase. Based on our on-site performance, several USAF contractors, including Raytheon, ARINC, and USIDC, approached Kuanta to request aviation-related design, installation and integration services in challenging locations. With exceptional experience, in-house resources to provide fully integrated services, and partnerships with leading equipment manufacturers, Kuanta is a trusted source for superior aviation solutions.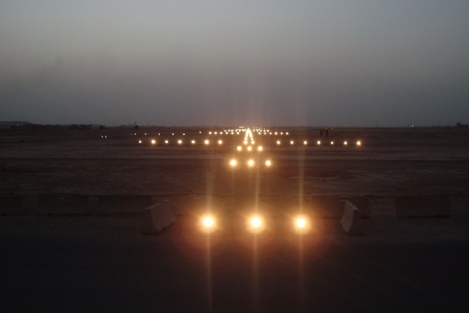 INTEGRATED SOLUTIONS
Kuanta specializes in delivering comprehensive, fully integrated aviation solutions. Our experienced in-house teams provide airside and landside design and construction of runways, taxiways, aprons, ATC towers, terminals, and other aviation facilities. At the same time, we seamlessly combine these services with self-performed design, installation, integration, commissioning, and maintenance of ATC and communications systems; navigational aids, radar, and surveillance systems; and electro-mechanical, terminal security, and baggage handling systems. Kuanta is a one-stop aviation solution provider for fully functional turnkey airports anywhere in the world.
PARTNERSHIPS
Our strong relations with leading aviation equipment manufacturers augment our aviation capabilities. We are qualified to perform installation, commissioning and maintenance of multiple systems, including airfield lighting, navigational aids, voice and UHF/VHF communication systems, AWOS systems, voice recording systems, terminal information services, alarm and security systems, power distribution equipment, and an array of terminal service equipment.
PERFORMANCE
Whether we undertake a new airport or airport renovation project, our ultimate aim is to deliver a high-quality, timely and cost-effective product to the client while minimizing interference with ongoing airport operations and maintaining a safe and secure environment for workers, airport personnel, and the public.
CAPABILITIES

Air Side

Runways, Taxiways, Aprons
Airfield Lighting Systems
Automated Weather Observation Systems
Control & Communication Systems
Navigational Aids (ILS, DME, NDB, DVOR/CVOR)
Radars & Surveillance Systems

Terminal Side

Terminals, Air Traffic Control Buildings, Hangars
Baggage, Security & Information Systems
Terminal & Apron Systems
Electro-Mechanical Systems, HVAC, Fire Protection, UPS

Support Services

Operational Support
Maintenance Support
Equipment & Systems Training
Flight Check & Ground Check Support
An all-in-one airport solution provider, Kuanta can design, construct, deliver and operate fully functional turnkey airports worldwide.
Projects