Construction
An experienced U.S. Department of Defense contractor and prequalified NATO, UN and U.S. Department of State Overseas Buildings Operations (OBO) contractor, Kuanta achieves successful project delivery with a client-focused approach, effective planning and positioning, skillful team building, and proactive execution.
PROJECT APPROACH
We instill confidence in our clients by acting as the single point of responsibility, offering fully customizable packages from concept to operation, and creating open and trusting working relationships by emphasizing communication and coordination.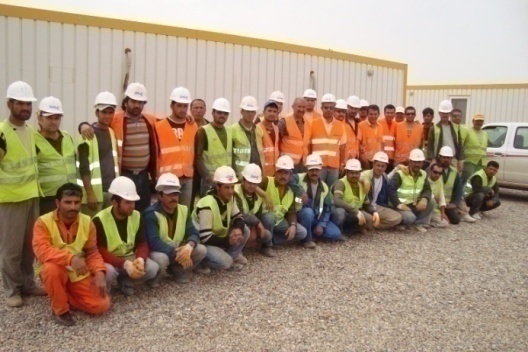 READINESS
Each project presents unique challenges. We perform detailed research and risk assessments before developing project plans to assure the client of timely, reliable performance.
With offices in Turkey, Qatar, Iraq and the U.S., Kuanta is positioned to mobilize rapidly, even in harsh environments. Our personnel are experienced working in developing countries, insecure regions, and war zones. Moreover, Kuanta has connections with local suppliers, service providers, transporters and employment agencies worldwide. Our adept logistics and human resources teams are ready to leverage these connections to provide prompt support.
TEAM BUILDING
Kuanta maintains strong ties with leading international designers and manufacturers as well as local subcontractors, enabling us to identify synergies and create the most advantageous team for each project. Kuanta ensures that all team partners commit senior personnel from the outset. Applying our "one-team approach," we achieve team integration by facilitating open communication and close coordination among all stakeholders.
PROJECT EXECUTION
For Kuanta, successful project execution hinges on a flexible and proactive project management style. We have standardized this approach in our Project Execution Plan (PEP), which serves to:
describe project procedures and decision-making strategies, identify duties, and outline communication processes,

manage project activities and fulfill RFP requirements,

delineate project scope and objectives to enable a unified approach to project design, construction and management,

highlight project challenges and define procedures to identify, isolate, mitigate, manage, and solve problems,

name and describe team members and their responsibilities,

guide design, schedule, cost, quality, logistics, security, safety, construction, start-up, commissioning and close-out.
CAPABILITIES

Utilities & Infrastructure

Highways & Railways
Electrical Infrastructure & Distribution
Potable/Waste Water Lines & Treatment Plants
Multi-Purpose Vertical & Horizontal Construction

Commercial Buildings

Hospitality, Sports & Healthcare Facilities
Factories

Specialty Construction

Horizontal Directional Drilling
Deep Foundations

Construction Management

Master Plan & Project Development
Risk Analysis
Design-Build, BOT, PPP, Integrated Project Delivery
A dynamic, multidisciplinary construction company, Kuanta has the knowledge and experience to deliver reliable construction solutions.

Projects